Sussex County Virginia Criminal Lawyers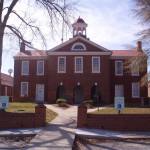 Riley & Wells Attorneys-At-Law concentrates its local Sussex County VA law practice in the area of criminal law, which includes the more specialized areas of DUI & reckless driving traffic law. Our Sussex County Virginia Criminal Trial Lawyers have dedicated their practice to criminal law and have amassed over 45 collective years of experience. We believe that active leadership in organizations such as the Virginia Trial Lawyers Association, along with prior law enforcement experience, provide our attorneys with the necessary experience to best represent our clients. The criminal law is a specialized area of the law and trials can become somewhat complex. WARNING: Placing your trust in a law firm that either juggles many areas of the law or simply does not possess the necessary experience is a dangerous proposition. A Virginia criminal conviction is permanent and it could forever negatively affect your future. Our Sussex County VA Criminal Defense Attorneys focus on effective criminal & traffic defense and can present your best defense before the Sussex County Courts.
Sussex County Virginia Trial Lawyer Client Reviews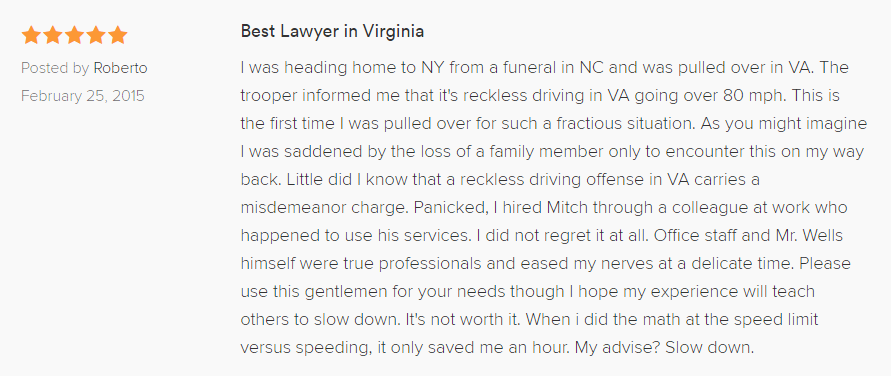 Successful Reckless Driving & Traffic Law Defense Attorneys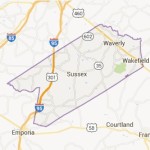 The Sussex County law enforcement community is comprised of a dedicated collection of agencies that are extremely diligent about enforcing the traffic law. The Virginia State Police, Sussex County Sheriff's Office, and Town of Waverly Police Department all enforce the traffic laws in this jurisdiction. Sussex County sits along the Interstate 95 corridor which always has a heavy volume of traffic. Route 460 through the county likewise has a high volume of traffic, particularly during the peak seasons. If you have been accused of any type of traffic offense in Sussex County, then you may want to consult with a  Sussex County VA Reckless Driving Traffic Lawyer who has dedicated his career to representing motorists in the Sussex County Courts. We believe that we have developed a solid understanding of how the Judges and prosecutors operate in this County because we regularly represent clients in this court. We think that clients receive better representation when the attorneys with more experience are representing them.
Leading Sussex County Virginia DUI & Traffic Law Attorneys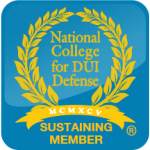 Driving under the influence of alcohol or drugs is taken very seriously by the Sussex County authorities. The DUI law can be very complex, and the consequences of a conviction can be extremely serious and life changing, such as mandatory minimum jail sentences, loss of driving privileges and rigorous treatment programs. We understand this and also know that this is a time for an accomplished advocate not a lawyer will lecture you about your decision making. We have successfully defended hundreds of DUI cases, even in situations where a blood or breath test registered above the legal limit and can help you present the best defense in your Sussex County DUI case. Our Sussex County Traffic Lawyers can assist you with your case.
Sussex County Virginia DUI DISMISSED
Our Sussex County Traffic Lawyers represented a client who was accused of drunk driving while driving on Route 460 by a Virginia State Trooper. After extensive investigation and due diligence, we determined that the prosecution had serious issues with the case that prevented them from possibly being able to prove the allegation beyond a reasonable doubt, which the law requires according to the U.S. Constitution. After multiple appearances before the Court, and negotiations with the prosecution, we were eventually able to successfully convince the Judge to DISMISS the case.
Let us review your case today. We can help!
11/10/2015 | Updated 2/22/2020