Client Reviews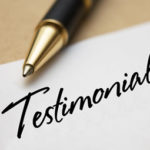 Riley & Wells Attorneys-At-Law has been consecutively recognized as a "Best Law Firm" for Criminal Law and Traffic Defense by U.S. News & World Reports.  Our law firm has built a reputation for quality and reliable legal representation. We work hard for our clients to best protect them before the Courts, which by design is an adversarial system that can be extremely intimidating. Don't take our word for it – see for yourself what our clients say about their experience with our law firm.
Reckless Driving Client Reviews
I was charged with a criminal reckless driving offense in Virginia when I was driving by, I was scared and it felt like my world was coming to end, someome recommended this firm and I decided to try them out, they reduced my offense from a criminal conviction to a defective equipment, non moving ticket, which is almost like a dismissed case cos it carrys no point and doesn't affect my driving record or increase my insurance.. So it was a let off for me and I can once again drive around with my clean record still intact... Am glad I chose them to represent me.. Thank you for all you do

Kolebaje Abimbola
16:19 26 Sep 20
They were able to get me off a reckless driving charge completely (I hate Virginia.) Pretty easy on my end; I didnt even have to go to court. Overall an amazing experience, i highly recommend!

Tyler Soper
02:56 19 Aug 20
Criminal Case Client Review

sexypeach386
14:59 16 Aug 20
Riley & Wells was able to come to my rescue at an affordable price and was able to lower my charges, avoid jail time and save my license. it was an easy process, they are very responsive and informative. I greatly appreciate their services and would recommend them to everyone.
Reckless Driving Letter of Reference and Recommendation
"I would like to attest to the professional services of the Riley and Wells Law Firm. I was subject to the Virginia State "Over 80″ stipulation, imposed by a Virginia State Trooper with a Napoleon Complex. Since I am a resident of another state I was forced with the option of accepting a misdemeanor and paying a ridiculous fine that may have caused my license to be suspended or revoked, or attending court. The problem is that I was in Virginia for work and was unable to make the court date because court was set for a date where I was not in Virginia. I was easily able to work with the Riley and Wells law office over the internet and phone to tackle this matter.
The Riley and Wells Law Firm not only represented me in my absence; but they saved me from the damage of losing my license and taking a misdemeanor charge, which could have impacted my career. I was always treated with dignity and respect and the staff kept me well informed of my situation every step of the way. The Riley & Wells attorney and paralegal professionals demonstrate a lead by the example approach as well as other traits such as timeliness, integrity, honor and personal courage. It is in my experience that Riley and Wells is one of the most professional law firms I have dealt with. I would certainly use them again and would recommend their services to anyone." Andrew Curtiss

Felony Hit & Run Personal Injury Dismissed
"You are awesome!!! Thank you so much for fighting it to the end. I guess this means I didn't deserve a felony and I am thankful it's not on my record, but thinking back to the day of that incident will always scare the crap out of me. I am more thankful that I learned my lesson without anyone actually being hurt. Winning this appeal has to look 'GREAT' on your resume. I don't know what the statistics are, but I don't think many Virginia Lawyers can say they have won an appeal. You are on my list for Thanksgiving. You've been a blessing and a friend. I pray you and your family have a blessed holiday." G.B., Richmond, Virginia

Reckless Driving Reduced to Defective Equipment
"As an out-of-state driver, I had the unfortunate task of blindly calling law firms to represent my case. After being mishandled by several other attorneys, I was extremely lucky to be referred to the office of Riley & Wells. Their responsiveness was amazing, wasting no time to gather all the details of my case. And I knew that I'd found the right firm to represent me. I am extremely pleased with the outcome of my case, and would highly recommend Riley & Wells without any hesitation. Thanks again! Best Regards," J.B., Elmhurst, New York

Reckless Driving 70/45 Dismissed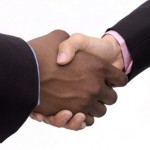 "As a lawyer I was a little skeptical about hiring an attorney to defend a reckless driving action for speeding 25 miles over the posted limit. After talking to Riley & Wells about my case, I quickly realized that only fools represent themselves. They had first-hand knowledge about the particular jurisdiction in which my case was being heard and the players involved. They were incredibly patient and responsive to all of my questions about the process. They were able to negotiate the best deal imaginable given my situation, a dismissal in exchange for driving school and court costs. I'm so grateful for their assistance. I'd recommend them to anyone, especially skeptical attorneys." R.B., Midlothian, Virginia

Petit Larceny Dismissed
"Thank you so very much for all your help with my case. You will forever be my favorite attorney! It is clear why you were named one of Virginia's "Super Lawyers" this year. Your manner, presence and of course results are spectacular – and most appreciated." Warmest Regards,  B.E., Richmond, Virginia                                                                                                                      

Traffic Court Dismissal
"I want to thank you for your outstanding help. You could not have produced a better outcome and I owe you a great debt of gratitude. I found the on-line driving school to be excellent and extremely beneficial. I have now taken care of everything. Have a wonderful holiday season."  M.B., Henrico County, Virginia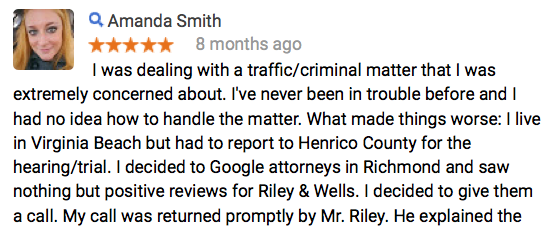 Assault & Battery Dismissed
"I want to thank you for your excellent assistance in bringing my case to a swift conclusion. Your thoughtfulness in explaining everything and promptness in sending correspondences are unrivaled. Thank you for the high quality, professional services you provided to me."Y.Z., Henrico, Virginia


Reckless Driving 93/65 Reduced to Improper Driving
"Thank you SO much for your help. It was a terrific outcome! You really worked magic on this case! For the past couple of weeks, I had been working through all the adverse scenarios given everything I've heard about how serious the penalties/judgments can be. I really can't thank you enough. I'd very strongly recommend you to others that find themselves in similar situations. I watched a lot of hearings in court today, and felt that you were by far the most professional and prepared in representing your clients. Lucky to have had you represent my case!" K.B., Arlington, Virginia

DUI and Refusal Amended to Reckless Driving
"I want to thank you so much for our help in resolving this case. I, my wife and daughter thank you for your diligence and professionalism in handling such a sensitive matter. I have learned a lot in the past two months. One of those things is that bad things can happen to good people, as your ad indicates. But helping folks like me find solutions and negotiate an equitable resolution, especially where there is a high degree of uncertainty, is a trait all too forgotten in real life. Thank you for your hard work!" S.C., Midlothian, Virginia

Traffic Court Dismissal
"Thank you for your excellent representation in General District Court. While you prepared me for a range of outcomes, I walked out of the courtroom stunned with the best case scenario available. Since our first discussion of my traffic case, I felt that you had a very good understanding of the particulars to my situation. I also felt assured through your presentation of possible outcomes that you would explore all avenues on my behalf. I will certainly refer you to colleagues in the event that they require services of your caliber. Thank you once again for exceeding my expectations and helping me bring closure to what could have been a very bad situation for me."    D.E., Mechanicsville, Virginia

Reckless Driving-Speeding 83/65 Dismissed
"After getting a reckless driving ticket for doing 83 in a 65 on I-95 in Virginia, I quickly realized how serious such a charge can be. Riley & Wells was the second law firm I contacted, but their professionalism and helpfulness immediately won me over. I live out of state and was dreading having to drive 9 hours one-way to attend the trial. Riley & Wells assured me they could represent me in my absence and they also thought they could get my ticket dismissed. I was a little skeptical, but that is exactly what they did. My ticket was completely dismissed and all I had to do was attend traffic school in my state and pay the minimal court fees. Thank you so much, Riley & Wells, I would definitely recommend your firm to others. Thanks again!"R.R., Athens, Georgia

Reckless Driving Accident Reduced
"My family and I want to thank you on the outstanding verdict rendered in my son's case. We were astounded that not only will we not have to attend driving school, but the charge will not even go on his driving record!!! I recommend anyone who needs a lawyer to contact you!" M. W., Richmond, Virginia
Trespassing Dismissed
"Thank you for everything, the outcome is indeed wonderful! Thanks again for your time and efforts on my case. I appreciate everything you and your team have done for me." E.C., Raleigh, North Carolina
Speeding 75/55 Dismissed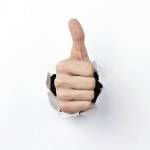 "I asked the Riley & Wells law firm to represent me after receiving a speeding ticket. I was ticketed for going 20 mph over the posted speed limit. They were always available to discuss my case and most importantly they cared. They were pleasant to work with throughout the legal proceedings. The firm's legal expertise and respect enabled me to have the ticket dismissed. I did not even have to appear in court, which was a relief. I want to thank the entire law firm of Riley & Wells for all their excellent work. I would without hesitation highly recommend Riley & Wells for legal representation. I cannot imagine what my situation would have been without Riley & Wells representing me. They care and do what they say they can do." D.G., Partlow, Virginia
Failure to Yield Emergency Vehicle Dismissed
"It had been 20 years since I received a ticket of any kind, so I was more than a little upset when I got a ticket for "Failure to yield to a stationary emergency vehicle". I was even more upset when I discovered that I had received the equivalent of a reckless driving ticket for not changing lanes as I drove past a police car on a traffic stop. After researching the law on the internet, it was clear to me that I had broken the law, so I figured I did not need a lawyer and I was going to take my chances with the court. I originally contacted Riley & Wells just to get an idea of what I might expect once I was convicted. They called me back and reminded me that the ticket I received was a class 1 misdemeanor. I reluctantly decided that I would hire Riley & Wells for my case. On my court date there was a courtroom full of people going in front of the judge for a wide range of traffic offenses. The people in court that day who had first time minor speeding tickets (with clean records) were generally getting their tickets dismissed upon completion of driving school. Everyone else that had any other offense got at least a fine, except for me. I was the only person I saw approach the bench (other than those with a minor speeding ticket) who got their ticket dismissed upon completion of driving school. I hope that I can go another 20 years without getting a traffic ticket of any kind, but if I do get one, I can guarantee you that Riley & Wells will be with me in court."
T.B, Powhatan, Virginia
Reckless Driving Reduced to Defective Equipment
"I want to thank you for your help in resolving my case. You're literally a life saver! Today was my first time going to court. I didn't know what to expect and was really anxious about it for months because I have heard about the many different possible outcomes for reckless driving, especially at a construction zone! I still cannot believe the result I'm getting. I truly appreciate your skills and professionalism. I will definitely recommend you to anybody." D.C., Charlottesville, Virginia
Possession of Marijuana Reduced to Paraphernalia
"Having Riley & Wells defend my interests was the best choice I could have made, after I was charged with Possession of Marijuana. They came to court very well prepared, and their experience was monumental in having my Possession of Marijuana amended to Paraphernalia with a $100 fine. I will never put myself in that type of situation again; however, if the worst happens, then I would not hesitate to call Riley & Wells."              H.L., Richmond, Virginia
Traffic Ticket Nolle Prosequi
"We would like to truly thank you for the professional manner in which you handled our case once in the courtroom. We appreciated the way in which you kept us abreast of your intentions as we sat for the proceedings. Thanks again for easing this trying time." R.D., Mechanicsville, Virginia
Reckless Driving – Speeding 101 mph in a 65 mph speed zone
"I would like to thank you for representing me in my reckless driving case. I hoped for the best, avoided the worst and ended up with a very acceptable outcome thanks to your help. I will gladly recommend your services to anyone in the unfortunate circumstances that I landed myself in."
Q.B., Lieutenant, United States Navy
Speeding 72/55 Dismissed
"Thank you all so much for representing me in court for my recent traffic infraction. I can't tell you how pleased I was with the outcome. Without your knowledge, experience, and effort, I could have been in real trouble." J.W., Winston Salem, North Carolina
Reckless Driving Reduced to Defective Equipment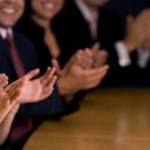 "Thanks so much for your legal representation in my moving violation case! You were able to sustain my almost spotless driving record by convincing the judge to reduce my reckless driving charge to a non-moving violation, meanwhile keeping my car insurance rate low. You gave me a sense of security in knowing that my case was being handled by a legal professional who had my best interest in mind and alleviated my anxiety of appearing in court. Not to mention that you saved me gas from driving all the way to VA! Thank you for your assistance!!"L.C., Durham, North Carolina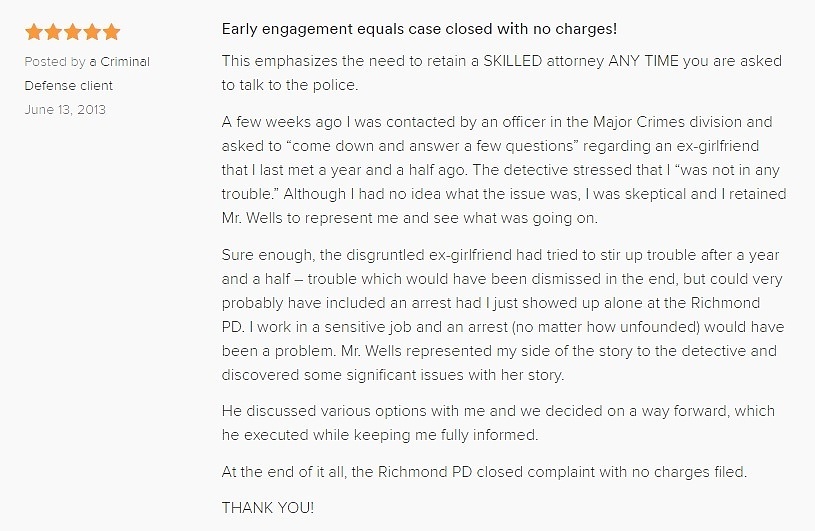 Traffic Ticket Dismissed
"Thank you so much for your fantastic help yesterday in Court. You saved me! I am thrilled to only do driving school." B.E., Goochland County, Virginia
Reckless Driving Speeding 66/35 Dismissed
"When I was stopped for reckless driving for speed going 66 mph in a 35 mph, I worried that my military career was over. Riley & Wells, however, recognized the implications a conviction would mean for a soldier, e.g. possible loss of freedom, loss of security clearance, and loss of career. They provided excellent counsel, were well prepared for court, and worked a small miracle in getting the charge dismissed. I would sincerely like to thank Riley & Wells for a job well done!"  A.S., Captain, United States Army
DUI & Concealed Weapon Reduced
"It was a pleasure to see how a ring-wise veteran works a case. The outcome was better than I had dared hope." M. D., Richmond, Virginia
Reckless Driving
"In November 2009, I received a citation for Reckless Driving, driving 83 mph in a 65 mph zone, while returning home on I-295. As a working professional, I was deeply concerned about the affects of a Reckless Driving charge on my family, my career, and my life. Having received speeding tickets in the past, I decided to seek the help of a legal professional. Therefore, I retained the legal services of Riley & Wells. I was immediately impressed by the calm, confident, and professional manner in which the firm dealt with my case. Upon going to court, my Reckless Driving charge, a Class 1 misdemeanor criminal offense, was reduced to minor speeding with a fine of less than $100. Thankfully, I was able avoid the Reckless Driving charge, jail time, and the loss of my driving privileges." G.G., Alexandria, Virginia, Captain United States Army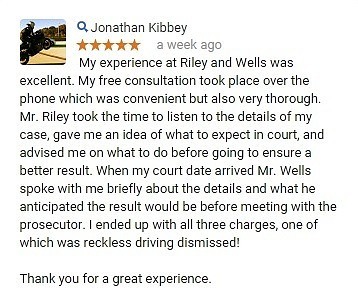 Reckless Driving Reduced to Improper Driving
"I am writing to thank you on behalf of myself and my parents. First, I want to thank you for taking my case and secondly for getting the charge of reckless driving reduced to improper driving. That was the main reason why my parents sought legal representation for me. I got everything I had hoped for…a reduced charge, no license suspension, no jail time and no additional fee. I just wanted to let you know that we were very satisfied with the results of the court case and that I have learned from this experience what not to do on the highways." K.R., Newport News, Virginia
Corruptly Bribe Police Officer Nolle Prosequi & DUI 2nd Offense within 3 years w/ 0.15% BAC Reduced to 1st Offense DUI
"It is without reservation that we recommend the legal team of Riley & Wells. In all aspects of their representation and with all parties: including the court staff, prosecutors, police, Judge and others, the firm conducted themselves in a most competent and professional manner. Also, at a time that was most difficult for our family, they were very understanding and sincere in their approach with us. This is a first class group who know how to get things done. We wouldn't hesitate to seek out their counsel in the future should the need arise." T.B., West Point, Virginia
General District Court
"I would like to thank you for representing me in the General District Court. I couldn't have asked for a better outcome."  B.L., Oak Ridge, Tennessee
Reckless Driving Speeding 85/65 Nolle Prosequi
"Thank you very much. If you ever need to add to your firm's endorsements, please add my name to your loyal clients list. Again, you have made this very difficult matter much less difficult. It has been a personal learning experience and I thank you for your professional expertise."R.S., Sterling, Virginia