Highly Rated Greensville County VA Criminal Lawyer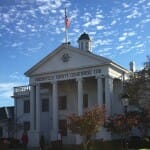 Riley & Wells Attorneys-At-Law concentrates its Greensville County law practice in the area of criminal law, which includes reckless driving defense. In Virginia, reckless driving is a class 1 misdemeanor criminal offense. Criminal trials can be complicated. Do not place your trust in a new or inexperienced attorney. There is no substitute for experience if your liberty is at stake. A Virginia criminal conviction is permanent and it could forever negatively affect your future. Our Greensville VA Criminal Defense Attorneys dedicate their careers to the practice of criminal & traffic law and are also members of some of the most prestigious criminal law organizations in the Commonwealth of Virginia and the Country. We firmly believe that active membership and leadership in organizations such as the National Association of Criminal Defense Lawyers, the National College for DUI Defense and the Virginia Trial Lawyers Association, to name a few, make us better advocates for our clients.
Trial Lawyers Who Specialize in Defending Criminal Cases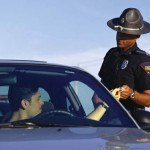 Our Greensville County criminal & traffic law attorneys have accumulated over 45 years of collective experience, take the time to listen, understand your case, and act in your best interests. If you have been accused of any criminal offense, such as reckless driving or possession of marijuana – or any other offense – then you need an accomplished attorney to protect your rights and secure the best outcome possible. The prosecution has attorneys acting in their best interests. Why shouldn't you? We fight for our clients using every resource the law allows to achieve the best possible outcome and consider guilty pleas only when they are in the best interest of our clients. We have earned the respect of the Greensville County judges & prosecutors as skilled trial attorneys who know how to effectively defend criminal & traffic cases, and who are not afraid to challenge the evidence in tough cases.
Greensville County Virginia Attorney Client Review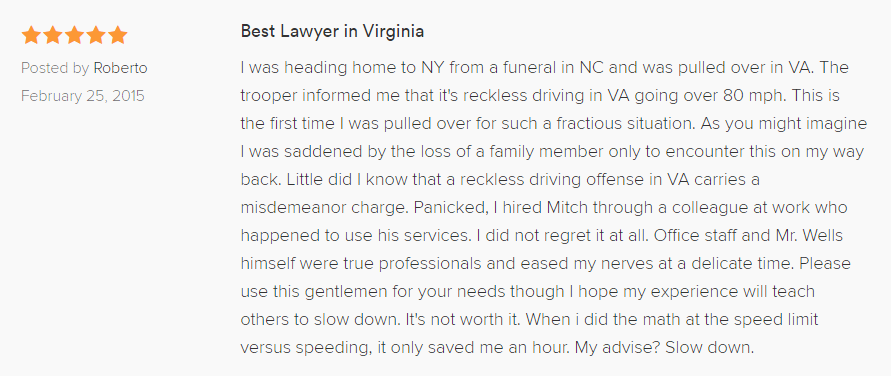 Trusted Greensville Virginia Criminal Defense Lawyers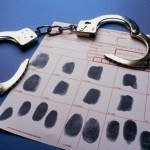 We are the Greensville County VA Criminal Lawyers that you want on your side. We have the experience, integrity, and expertise you need to protect your rights. Do you want an attorney who will process your case through the courts as quickly as possible without ever really taking the time to learn your case? Of course not. You want an accomplished advocate, who will stand by your side, from beginning to end, to represent you professionally, and aggressively if necessary. Riley & Wells Attorneys-At-Law are rated "AV Preeminent" by Martindale-Hubbell for the highest level of professional excellence in legal ability and ethical standards. Martindale-Hubbell, founded in 1868, is perhaps the most distinguished, established legal directory in the Country whose sole purpose is to publish reliable information regarding lawyers and law firms. Contact a recognized leader in criminal law today for a free evaluation of your case.
Successful Reckless Driving Attorneys Greensville County VA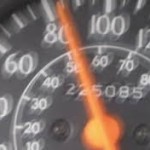 The Commonwealth of Virginia has one of the strictest reckless driving laws in the Country. Reckless driving in Virginia is a misdemeanor criminal offense that can result in incarceration with over 20 different code sections that criminalize certain types of driving conduct. Virginia State Troopers & Greensville County Deputy Sheriffs aggressively patrol Interstate 95 and Route 58 and routinely issue Virginia Uniform Summons (or traffic tickets) for reckless driving, speeding, and other various traffic offenses, some of which are very serious. Our Greensville Virginia Reckless Driving Lawyers specialize in defending and representing clients charged with reckless driving traffic cases in the Greensville County Virginia Courts every week. We believe that our clients benefit from this philosophy because it enables our lawyers to both advocate and engage daily with the same Greensville County Virginia Judges, prosecuting attorneys, and law enforcement officers to ensure that our client's best possible defense is presented.
Leading Greensville Virginia Traffic Lawyers
A relevant part of the Virginia traffic code involves various felony and misdemeanor criminal offenses. These criminal traffic offenses are taken very seriously by Greensville County Courts. Some of the more frequently enforced traffic violations such as DUI & reckless driving can involve complex issues, and the consequences of a conviction can be extremely serious and life changing, such as mandatory minimum jail sentences, loss of driving privileges and rigorous treatment programs. We understand this and also know that being accused of any offense can be a devastating event. The simple fact is, you are in trouble with the law and you need a non-judgmental advocate to give you straight forward advice about protecting yourself before the Court and presenting your best defense. Now is not the time to have a lawyer that is going to lecture you about your choices. We successfully defended traffic cases in the Greensville County Courts every week. You can benefit from our experience. If you have accused of a traffic violation in Greensville VA, then it would be in your best interests to consult our Greensville Virginia Traffic Lawyers about representation.
Let us review your case today. We can help!
11/10/2015 | Updated 4/29/2018
Greensville Defense Attorney<< Previous <   > Next >> Greensville Traffic Law