Experienced Petersburg VA Traffic Lawyer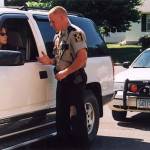 The traffic law is strictly enforced in Petersburg Virginia. Petersburg Police Officers and Virginia State Troopers aggressively patrol the streets of Petersburg and Interstates 95 and 85. Traffic violations are classified as felonies, misdemeanors and infractions. An experienced Petersburg VA Traffic Lawyer can typically represent the client in misdemeanor and infraction cases without the client having to appear in Court. Our goal is to protect the client. Our lawyers will present your best defense.
CAUTION: A traffic violation conviction may increase the automobile insurance premium by as much as 79%, according to a study conducted by Insurance.com
Successful Petersburg VA Traffic Law Attorney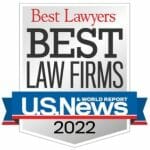 Riley & Wells Attorneys-At-Law is a reputable local Petersburg VA law firm. Our lawyers possess over 45 years of collective traffic law experience. We are routinely recognized by the legal community for superior legal ability and the highest ethical standards. Our traffic attorneys examine every case with great care. We present every applicable defense and use every resource the law allows to secure our client the best possible outcome under the law. We have the necessary experience to help prevent bad things from happening.
Petersburg VA Traffic Lawyer Client Reviews John Venezia
15:28 04 Oct 17
Extremely happy with the outcome of my case. Well worth the money. I recommend to anyone (in state or out of state) to obtain their services for VA traffic issues.
Traffic Violation Penalties – Petersburg VA
Incarceration
Maximum fines of $2500
Loss of driving privileges
Moving violation demerit points
Increased automobile insurance premiums
Employment issues
Petersburg Traffic Court Defense Attorneys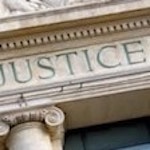 Our attorneys specialize in traffic law defense. We represent clients in the Petersburg VA General District Court every week. We believe that clients benefit from local lawyers who specialize and represent clients before the same Judge. The Code of Virginia classifies various forms of driving as traffic violations. We can defend any traffic violation. Let us review your case. We can protect your freedom and your future. You can benefit from our experience.
Riley & Wells Attorneys-At-Law Can Defend Any Petersburg VA Traffic Violation
No valid driver's license
Hit & Run

Habitual Offender

Eluding the Police

Aggressive driving
Drive revoked 18.2-272
Suspended driver's license
Commercial driver violations

License restoration

Handheld cellphone use while driving
Fail to "Move Over"
Out-of-state Driver
Accidents
Moving violations
No automobile insurance
Reckless Driving Tractor Trailer Accident DISMISSED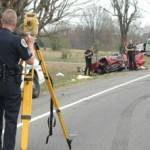 Our Petersburg VA Traffic Attorneys represented a commercial driver operating a tractor trailer on Interstate 85 in Petersburg VA. Our client was involved in an accident. After a careful review of the case, we developed two defenses: 1) our client may not have been in violation of the Bacon and Powers cases, which states the legal premise that the mere happening of accident is not necessarily a violation of the reckless driving law; and, 2) the criminal prosecution was brought in the wrong jurisdiction.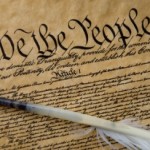 We believed the state trooper alleged the reckless driving violation occurred in the wrong jurisdiction. On the trial date, we entered a plea of not guilty on behalf of the client and the Court heard testimony from the state trooper. At the appropriate time, we made a motion to strike the case for lack of proper jurisdiction. The Judge agreed and dismissed the case. The Double Jeopardy clause of the U.S. Constitution protected the client from a retrial in the proper jurisdiction.
Petersburg Driving on a Suspended Driver's License DISMISSED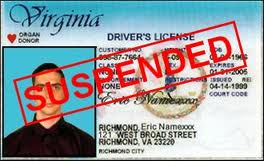 Our lawyers represented a client who charged with driving on a suspended driver's license. The defense to the case was whether our client had proper "notice" that he knew his driving privileges were suspended. A careful review of the client's driving record revealed a "notice" defense. We convinced the Judge to dismiss the matter.
Petersburg 3rd Offense Suspended License REDUCED to No O.L.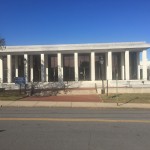 Our Petersburg VA Traffic Attorneys represented a client who was charged with driving on a suspended license 3rd offense. A conviction for 3rd offense driving on a suspended license within 10 years automatically means 10 mandatory minimum days in jail. Additional penalties include further loss of driving privileges and a maximum fine of $2,500. In this case, we were able to protect our client from these harsh penalties by reducing the case to the lesser offense of no valid driver's license.
Petersburg VA Traffic Lawyer Client Review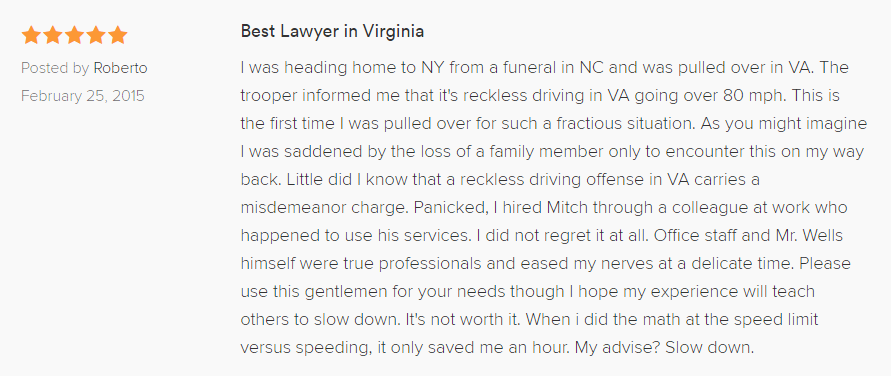 Contact us today for a free evaluation of YOUR case!
11/10/2015 | Updated 2/22/2020