Virginia Speeding Ticket Defense Lawyer
Virginia ranks as one of the toughest states on speeders. A Virginia Speeding Ticket is probably the most common type of traffic violation in Virginia. Consult a lawyer before you attempt to plead guilty. NOTE: Receiving a Speeding Ticket is NOT a conviction. A conviction can negatively affect you in many ways. Excessive fines. Assessment of moving violation demerit points to your driving record. Loss of driving privileges depending on speed and prior convictions. Increased insurance premiums. We can protect your interests. Let us review your case!
***Our attorneys are licensed to practice law in all Virginia Courts***
30,000+ Clients Represented
900+ Favorable Google Reviews
60+ Years of Combined Experience
Effective VA Speeding Ticket Attorneys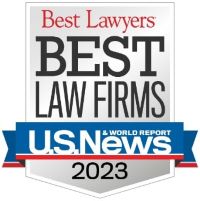 Riley & Wells Attorneys-At-Law is an established Virginia law firm that defends clients accused of speeding. Our Virginia Speeding Ticket Attorneys possess over 60 years of collective experience of successfully representing clients. We can ensure that your rights are protected, that you are not intimidated in the courtroom, and that you increase your chances of securing a better result than you could obtain.
CAUTION: A speeding ticket conviction will on average, increase the automobile insurance premium by 20%-30% EACH YEAR, according to a study conducted by Insurance.com
Successful Virginia Speeding Ticket Defense Attorney Client Reviews I used this law firm for a speeding ticket and I'd highly recommend them! They are extremely professional with phone etiquette that's seldomly found in business now days. I was pleased with the out come.
Virginia Interstate Speeding Ticket Traffic Court Defense Lawyers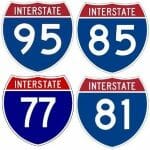 Virginia interstates are heavily traveled. And as a result, they get the attention of Virginia State Troopers and County Deputy Sheriffs. Driving too fast for too long on a Virginia interstate will likely get noticed by law enforcement. Do NOT plead guilty without consulting an attorney specializing in traffic law defense. Our attorneys have extensive experience defending this type of case. We defend speeding cases before the Virginia courts every week. We know how to defend your case best.
Virginia Reckless Driving Speeding Attorneys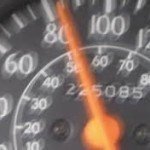 Virginia's most serious type of speeding case is the Reckless Driving Speeding Ticket pursuant to Va. Code 46.2-862. Reckless driving in Virginia is a criminal misdemeanor violation. A driver is guilty of reckless driving for traveling at 20 miles per hour or more above the speed limit OR over 85 miles per hour regardless of the speed limit. There are many places on Virginia interstates where the speed limit is 70 miles per hour. Thus, driving 16 mph over the 70 mph speed limit can trigger this harsh law.
Riley & Wells Attorneys-At-Law Defend Virginia Speeding Cases
46.2-862 Reckless Driving-Speeding
46.2-870 Speeding
46.2-871 School Buses
46.2-872 Special Permits
46.2-873 School Zones
46.2-874 Business or Residential District
46.2-873.2 Rural Rustic Roads
46.2-877 Impeding the Flow of Traffic
46.2-878 Change Speed Limits
46.2-878.1 Highway Work Zone
46.2-878.2 Certain Residential Districts
46.2-947 Highway Safety Corridor
Experienced Traffic Court Representation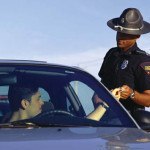 Some people don't think they need a Virginia Speeding Ticket Lawyer to assist them with their speeding ticket. This may be true is some cases. Most folks representing themselves are not capable of properly defending a case before the Courts. There are various procedural and substantive issues to every speeding case. Our attorneys know how target the proper issue on how to likely win the case depending on the facts. We have successfully defended thousands of clients and can help you.
Virginia Speeding Ticket Cases by RADAR and LIDAR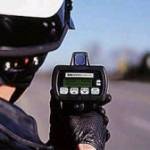 Virginia State Troopers, Deputy Sheriffs and Police Officers use various speed detection devices to gather evidence in speeding cases. Our Virginia Speeding Ticket Lawyers have a clear understanding of how RADAR, LIDAR and the pace method work. Increase your chances of successfully dealing with your Virginia speeding ticket by contacting us today for a free initial consultation. We know the best strategies to use at trial to protect our clients.
Virginia Speeding Ticket Lawyer Client Review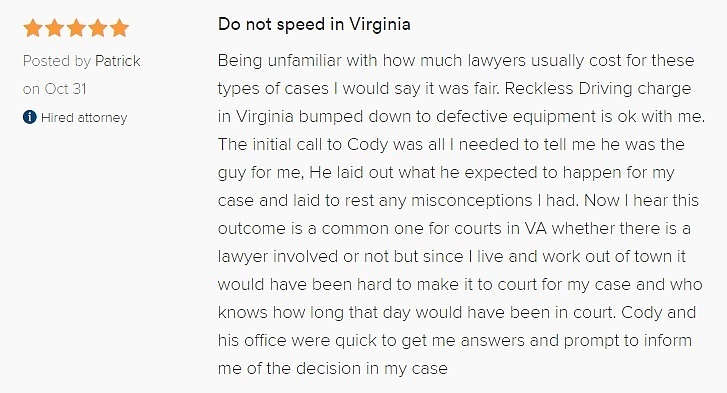 Let us review YOUR case. We can help!
11/10/2015 | Updated 4/19/2023