Henrico VA Reckless Driving Lawyer
Riley & Wells Attorneys-At-Law is an established local Henrico VA law firm. Our lawyers defend reckless driving cases every week in the Henrico Courts. We dedicate our practice to this area of the law. We believe clients benefit from a local law firm specializing in reckless driving defense. Representing clients before the same Henrico Judges weekly gives us an advantage over lawyers unfamiliar with local rules. An experienced Henrico County VA Reckless Driving Lawyer will present your best defense. Let us review your case. You can benefit from our experience. 
CAUTION: A reckless driving conviction will, on average, increase the automobile insurance premium by 73% or $1,046 EACH YEAR, according to a study conducted by Insurance.com
Reckless Driving is a Criminal Misdemeanor Violation
In Virginia, reckless driving is a criminal misdemeanor offense, just like a DUI. A reckless driving conviction can jeopardize your freedom, career, driving record, and automobile insurance. In Virginia, reckless driving convictions are permanent, cannot be expunged, and remain on the DMV driving record for 11 years. Henrico Police and Virginia State Troopers patrol the County and the area's interstate highways. Both police departments have reputations for aggressive enforcement. Do not expect a warning if accused of reckless driving. Contact us today for a no-obligation free initial consultation.
Henrico VA Reckless Driving Lawyer Client Reviews

Trust and integrity is simply the watch words for Riley & Wells. I live in NC and needed legal help in the state of Virginia. I called Riley & Wells and they handled all of my legal matters above and beyond any set standards. Everyone I spoke to on the phone or in email treated with the upmost respect. They took care of my legal issues to highest level of my satisfaction without me needing to travel back to VA. They are truly the best legal team that I have ever met. If you need a total professional legal team with super and affordable prices please call Riley & Wells.
Virginia Reckless Driving Penalties
Maximum 12 months in jail
Maximum $2,500 fine
Loss of driving privileges
Moving violation demerit points
Community service
Driver improvement programs
Possible employment problems
Increased automobile insurance rates
Experienced Henrico VA Reckless Driving Defense Attorney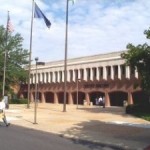 Our reckless driving attorneys have over 45 years of combined legal experience. We are routinely recognized for our superior legal ability and high ethical standards. Our lawyers examine every case in detail so that we can present the best defense. Our lawyers understand how reckless driving evidence is obtained and presented to the Court. This is important for a successful defense. We know what defenses work with Henrico Judges and those that do not work. You can gain from our experience.
Henrico County Reckless Driving Speeding Attorneys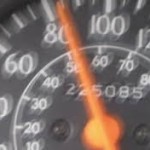 The Virginia reckless driving speeding law [Code 46.2-862] criminalizes speeding 20 mph or more over the posted speed limit or driving faster than 85 mph regardless of speed zone. This is the most enforced reckless driving law in Henrico VA. The speed limit on some Henrico VA interstate highways is 70 mph. This means that a motorist can be charged and convicted of criminal misdemeanor for driving 86 mph in a 70 mph speed zone. A very harsh punishment for exceeding the speed limit by 16 mph.
Henrico VA Reckless Driving Client Reviews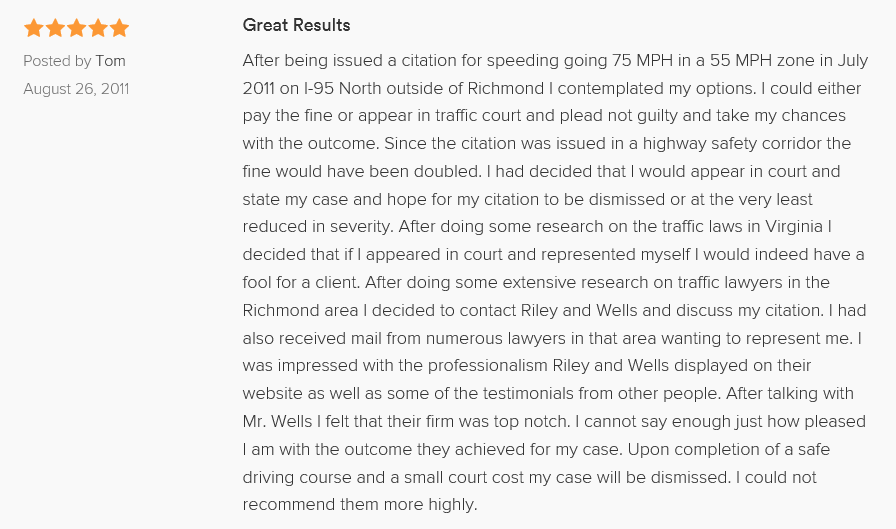 Henrico VA Reckless Driving Passing a School Bus DISMISSED
Our Henrico reckless driving lawyers represented a client accused of passing a school bus. The school bus was travelling on a four lane highway when it stopped at a day care to pick up and drop off children. A police officer was in front of the day care with his police lights on and observed the entire event. Virginia code 46.2-859 legislates that this type of driving activity as reckless driving. Our lawyers had various arguments prepared to present to the Court that were successful. We convinced the Judge to enter an order that dismissed the case. Our client was happy to beat a reckless driving conviction. No loss of driving privileges with only a driver improvement program required.
Contact Us today for a free case evaluation!
11/10/2015 | Updated 9/14/2020